The Social Innovation and Change Initiative (SICI) is thrilled to announce the 2021 cohort of Adrian Cheng Fellows.
This year, Fellows are building healthy communities, reimagining education systems, creating economic security and opportunity, and changing narratives. They are intrapreneurs, educators, nonprofit leaders, social entrepreneurs, organizers, and community change-makers. Representing four Harvard schools — HBS, HGSE, HKS, and Harvard College — this cohort exemplifies the strength and promise of cross-sectoral, cross-community social problem-solving.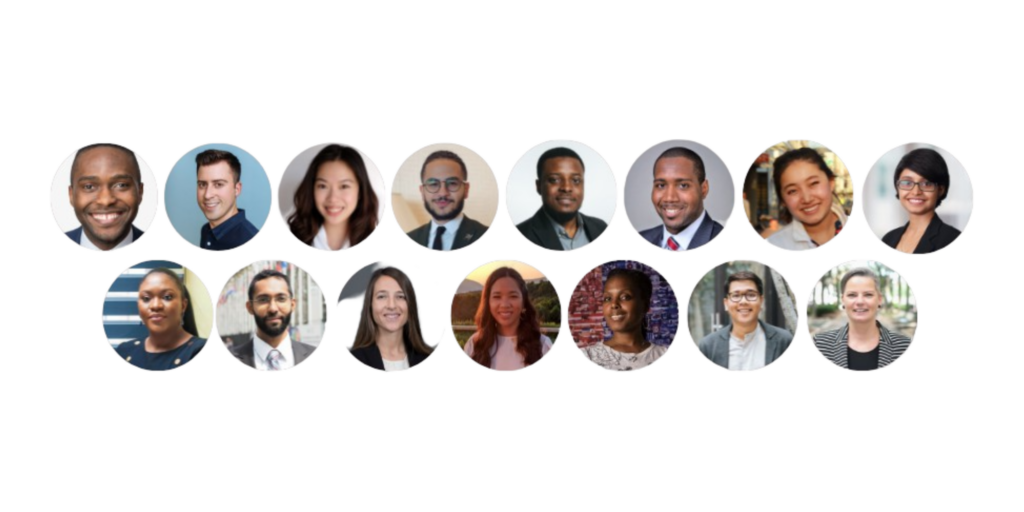 Pelkins Ajanoh (MBA '22) is the co-founder of CassVita, a tech-enabled agribusiness that empowers local farmers through its novel technology for increasing the shelf-life of cassava – a rapidly deteriorating root vegetable.
Beto Altamirano (MC/MPA '22) is the CEO & Co-founder of Irys, a company building AI-driven tools that engage communities to bring real-time visibility and data analytics for urban stakeholders.
Camille Patricia Dominique Ang (MBA/MPA-ID '22) is the CEO and co-founder of Hive Health, a digital healthcare insurer that provides employees and their loved ones with easy, affordable, and quality health insurance through a user-centric, data-science powered technology platform.
Ahmed Badr (Ed.M '22) is the founder of Narratio, an organization that activates, supports, and highlights the creative expression of displaced young people through fellowships, workshops, publishing, and partnerships.
Kingsley Ezeani (MC/MPA '22) is the co-founder of VING.AI, a peer-to-peer currency exchange platform that tackles high remittance fees experienced by African migrants.
Brian Gaston (EdLD '23) is founding a network of early college high schools designed to make teaching and education careers more accessible for students who identify as Black, Indigenous, or people of color.

Karly Hou (Harvard College '23) is the founder of Wave Learning Festival, a nonprofit working to address educational equity through free, live, online school and career support for K-12 students and personalized support for under-resourced schools.
Pallavi Khare (MPP '22) is the co-founder of WeUnlearn, an AI-based chat helping India's youth build their self-efficacy and lead gender-equitable lives by helping underserved adolescents overcome harmful gender norms and stereotypes and promote online safety.
Abosede Lewu (MC/MPA '22) is developing Kiakia Health, a health-tech platform that improve access to reproductive health information and services thereby reducing maternal morbidity and mortality among girls and young women.
Jonathan Mendonca (Ed.M '22) is the co-founder and Director of Strategy at Barefoot Edu Foundation, a non-profit focused on building educational quality in India by empowering school leaders to be change agents.
Mercedes Sidderes (MIT MBA + MPA-ID '22) is the founder of Abrazar, an Argetinian organization that designs and provides tools to local governments to identify children at-risk of domestic violence and take preventative action.
Kirsten Soong (MBA '22) is the founder and CEO of FeatherHealth, a digital platform that provides safe, affordable, and accessible healthcare solutions to people in underserved communities who battle chronic pain by providing personalized and alternative treatments and community.
Judy Touzin (EdLD '23) is the founder of The ExceptionAL Project, an organization that seeks to amplify the beauty, brilliance, and humanity of Black men and boys across the U.S. to broaden their sense of possibility and realize their fullest potential.
Iman Usman (Ed.M '22) is the co-founder and COO of Ruangguru, the largest ed-tech company in Southeast Asia that enables access to quality education and employability by leveraging the use of technology and quality content.
Alena Vachnová (MC/MPA '22) is a housing advocate leveraging her role at Foundation DEDO to end family homelessness by adapting a Housing First approach in Slovakia.
Returning 2020 Fellows
The Cheng Fellowship accepts rising juniors at Harvard College. This year, one 2020 Cheng Fellow is returning to complete her final year of the program.

---
Join us in welcoming the 2021 Cheng Fellows and returning 2020 Cheng Fellows on social media by tagging us @SICIHarvard and using the hashtag #2021ChengFellows!
The New World Social Innovation Fellowship is a rigorous program of SICI that selects and supports students – Cheng Fellows – from the Harvard community. Selected for their potential to catalyze positive social change, Cheng Fellows are committed to addressing specific social and environmental problems.