Power, for All
In 2021, SICI's Founder and Faculty Chair, Julie Battilana, released her first book, co-authored with Tiziana Casciaro: Power, For All: How It Really Works and Why It's Everyone's Business.
The book seeks to change how people see power: not just as a blunt tool reserved for the privileged few, or as a dirty business that one should stay away from, but as energy for everyone to harness to make our life, work, and society better.
Learn more about Power for All here.
#DemocratizingWork Initiative
SICI's Founder and Faculty Chair Julie Battilana, together with co-authors Isabelle Ferreras and Dominique Méda, wrote an op-ed on the future of work and lessons from the coronavirus pandemic. In the span of only two weeks, the piece became a manifesto signed by more than 5,000 researchers from more than 700 universities on every continent. On May 15, 2020, "Work: Democratize, Decommodify, Remediate." was published in 41 newspapers in 36 countries around the world including Le Monde, The Boston Globe, and The Guardian. This mobilization reflects what the academic community is capable of undertaking to illuminate possible paths forward for society and work.
Read the manifesto and learn more about the #DemocratizingWork initiative here.
Democratize work: The Case for Reorganizing the Economy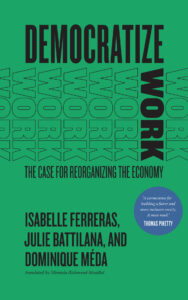 Building on the efforts of the #DemocratizingWork Initiative, Democratize Work: The Case for Reorganizing the Economy explores the need to democratize firms, decommodify work, and decarbonize the planet. Essays from a dozen social scientists—all women—articulate the perils and frustrations of our collective moment, while also framing the current crisis as an opportunity for renewal and transformation. Recognizing that the status quo is no longer tenable, the book offers a blueprint for changing our social and economic systems simultaneously.