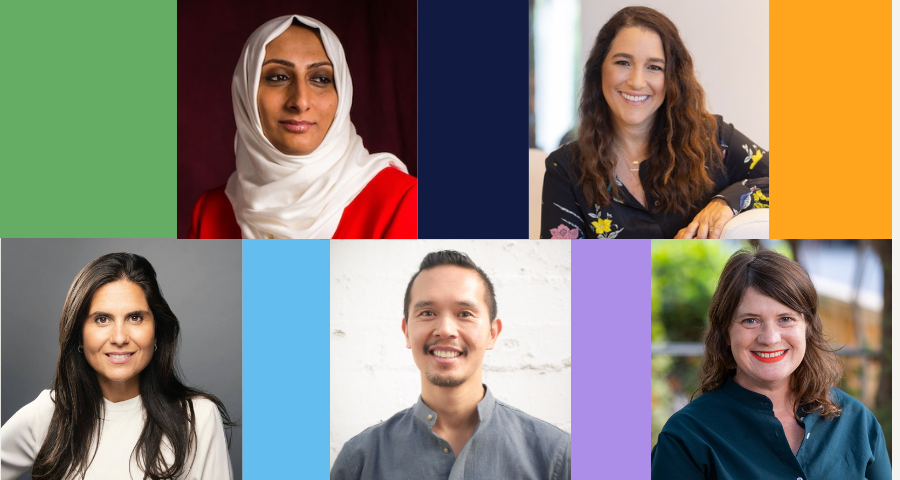 SICI is thrilled to announce the 2023-2024 Beck Visiting Social Innovators! This community is an essential part of our efforts to nurture an ecosystem of social innovation at Harvard. With decades of experience, VSIs interface between Harvard and the broader world to support our next generation of social changemakers.
VSIs spend a year at SICI supporting the next generation of changemakers and furthering their own social change efforts. Through in-person and virtual visits, they mentor students in their development as leaders and help them navigate obstacles to creating social impact.
This year's VSIs not only emphasize the breadth of the social challenges we face, but also the many possible pathways to social change. We're delighted that Zubaida Bai, President and CEO of Grameen Foundation, is returning for her second year as a VSI. We are also welcoming four incoming VSI's, Celina de Sola (MPH '06), Rey Faustino (MPP '12), Lily Lapenna, and Michelle Miller. Together, they bring expertise in achieving change through movement building spanning industries, tech-enabled interventions, and partnerships between the nonprofit, private, and public sectors.
We're excited to welcome these VSIs into our community! Stay up-to-date on upcoming VSI events by signing up for the SICI newsletter.
Meet the 2023-24 Beck Visiting Social Innovators
Join us in welcoming the Marla and Barry Beck Visiting Social Innovators by tagging us @SICIHarvard and using the hashtag #BeckVSIs!