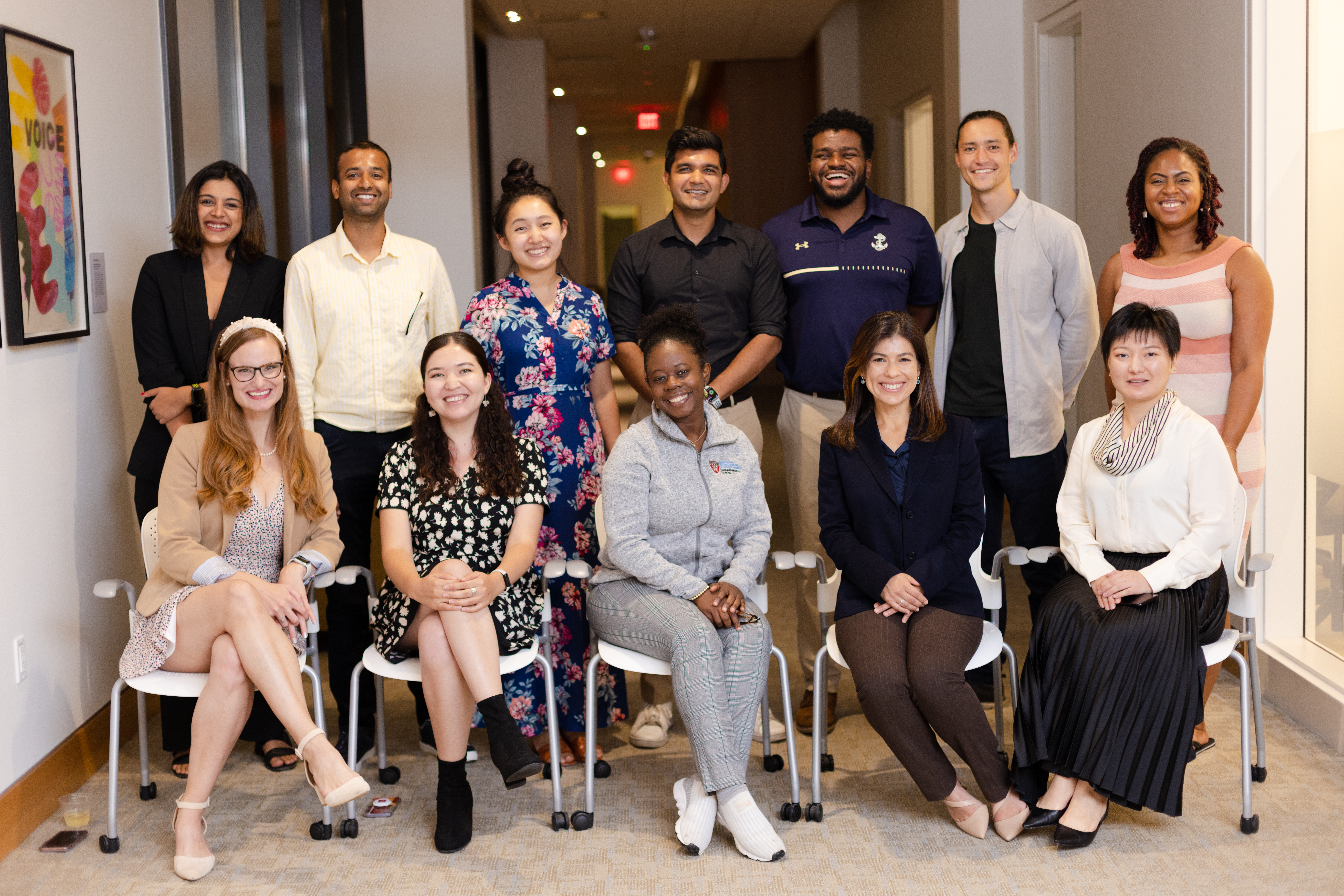 The New World Social Innovation Fellows Program supports selected students — Cheng Fellows — in taking action to advance progress against a pressing social problem through social innovation. We have found that successful applicants do not always think of themselves as "social innovators". We encourage applications from civil servants, intrapreneurs within large organizations, social entrepreneurs, activists, and changemakers with dedicated passion and clear drive to solve a defined social problem.
We are now accepting applications for our 2023-24 Cheng cohort. Apply by June 5, 11:59pm ET.
---
Eligibility
The New World Social Innovation Fellows Program currently accepts applications from students in the following schools:
Harvard Business School: Applicants from HBS must graduate in Spring 2024.
Harvard College: Applicants from Harvard College must graduate in Spring 2024 or 2025.
Harvard Divinity School: Applicants from HDS must graduate in Spring 2024.
Harvard Graduate School of Design: Applicants from HGSD must graduate in Spring 2024.
Harvard Graduate School of Education: Applicants from HGSE must graduate in Spring 2024. EdLD students may only apply as rising second-year students (Spring 2025 graduation).
Harvard Kennedy School: Applicants from HKS must graduate in Spring 2024, including the one-year Mid-Career program.
Harvard Law School: Applicants from HLS must graduate in Spring 2024.
Harvard School of Engineering and Applied Sciences: Applicants from SEAS must graduate in Spring 2024.
Harvard School of Public Health: Applicants from HSPH must graduate in Spring 2024. DrPH students may apply as rising second-year students or rising third-year students (Spring 2024 or 2025 graduation).
Joint degree and part-time students must be currently enrolled in one of the above programs and graduate in Spring 2024 to apply.
Pairs are eligible to apply, however, all applicants must meet the eligibility requirements outlined above. Each person must submit an application and will be assessed on an individual basis.
Timeline
May 5, 2023 | 12:00 pm ET: Application opens.
May 18, 2023 | 11:00am ET: Virtual Application Information Session.
June 5, 2023 | 11:59 pm ET: Application deadline.
June 5 – July 7, 2023: Initial application review.
Review Process: SICI engages a community of close collaborators, including Harvard partners and field experts, to review applications. Applicants will be notified of the status of their application throughout the summer. Due to the volume of applicants, we do not respond to individual emails regarding application status.
Supplemental Material: We may request supplemental information from candidates that advance in the application process.
July 7, 2023: Finalists notified. Selected candidates will receive an interview request via email and must respond before the stated deadline to secure an interview slot.
July 10, 2023 | 9:00 am ET: Deadline for finalists to respond to interview invitations.
July 14 – 18, 2023: Finalist interviews.
July 21, 2023: Decision notifications.
Applicant Resources
Information Session + Recording
The SICI team hosted a virtual information session for interested applicants on Tuesday, May 18, to share about the Fellowship experience, selection process, and tips for preparing a strong application. 
Click here to watch the recording.
Office Hours
The SICI team is hosting office hours for interested students on May 11 – 25 + June 1. Applicants can sign up for a 20-minute meeting to discuss questions about the program or application process. To maintain an equitable process, we will not advise applicants on their social change efforts during this time.
Click here to sign up for office hours.
Evaluation Rubric
We encourage applicants to carefully review the New World Social Innovation Fellows Program evaluation rubric in advance of applying. There are no "hidden criteria" – we assess applicants based on exactly what is described in the rubric. Please know that you do not need to have "3's" in all categories to become a Fellow – in fact, no applicant has ever received these marks. We expect growth and development throughout the year.
Applicants can access the Application Evaluation Rubric here.
Program Structure
Each year, the Social Innovation and Change Initiative invites up to 15 exceptional students to join the New World Social Innovation Fellows Program. Selected students attend weekly co-curricular sessions for the duration of the program (AY 2023-24) at the Harvard Kennedy School. Sessions will be held in-person or hybrid according to the needs of the cohort.
Through a rigorous program experience, Fellows refine their understanding of a specific social problem, reflect on their personal identities and sources of power, and take action in finding their unique pathway forward, making concrete plans to continue their work post-graduation. Students are expected to remain in good academic standing for the duration of their participation in the program. Domestic and international students are encouraged to apply.