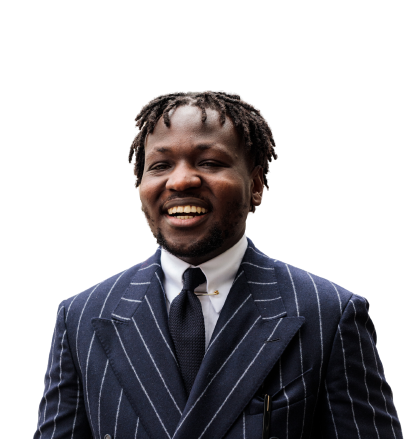 Collins Oghor
We are on a mission to prevent kidney failure, one family at a time.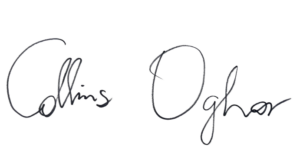 Collins Oghor, MD, MBA is a Master of Public Health in Healthcare Management candidate at the Harvard TH Chan School of Public Health and the CEO of Collogh Cares Inc., a digital health technology and advocacy startup committed to "preventing kidney failure one family at a time."
After witnessing the demise of a very dear relative due to lack of access to dialysis and renal replacement treatment in his native Nigeria, a 12-year-old Collins decided to devote his life to bringing access to quality healthcare to all.
Collins obtained an Honors Bachelor of Science in Psychology, Neuroscience, and Behaviour from McMaster University, Canada, in 2013. In 2018, a joint Doctor of Medicine, Master of Surgery, and Master of Business Administration degrees from McGill University, Canada. Upon graduation, he continued his thesis on improving global access to tuberculosis diagnostics at the United Nations Office of Project Services (UNOPS) StopTB Partnership in Geneva, Switzerland. He then returned to the mother continent in 2019 to work for McKinsey & Company's Africa Delivery Hub, a public and social sector practice specializing in strategy and implementation of public health, economic and infrastructure projects across Africa.
Collins co-founded Collogh Cares Inc. in September 2020 after receiving multiple reminders that kidney disease continues to be an increasingly prevalent "neglected epidemic." Starting with the United States market, the startup has developed a digital health ecosystem and care management service to support kidney specialist clinics in chronic care management and remote patient monitoring of their highest-risk chronic kidney disease patients. The company's long-term ambition is to develop its NephroAI platform to provide bionic nephrology support to patients worldwide, especially in areas with a shortage of specialists.
As a Cheng Fellow, Collins will focus on the rollout of Collogh Cares' digital health ecosystem and care management service to partner clinics across the US, scaling up while ensuring the technology and service maintains the highest social impact standards on neglected patients.
Role
Region
Global Goals
Year
2023